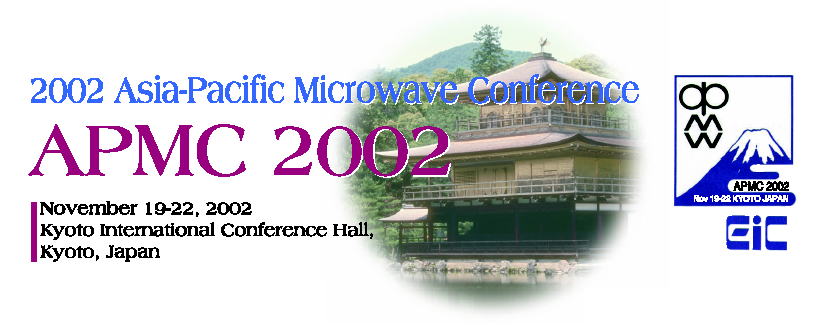 The 2002 Asia-Pacific Microwave Conference (APMC 2002) will be held at the Kyoto International Conference Hall, Kyoto, Japan, on November 19-22, 2002. This conference is organized and sponsored by the Institute of Electronics, Information and Communication Engineers (IEICE) of Japan, and will be cooperatively sponsored by IEEE MTT-S, URSI, IEEE MTT-S Japan Chapter and IEEE EDS Kansai Chapter.
CONFERENCE TOPICS
A. Active Devices and Circuits

Low-Noise Devices and Circuits, High-Power Devices and Circuits, Control Circuits (MIX, Osc., SW, etc.), MMICs and HMICs (Receivers, Transmitters, etc.), Silicon RF Devices

B. Passive Components

Filters and Resonators, Ferrite and Surface Wave Components, Packaging Techniques, Passive Devices and Circuits, Waveguides and Striplines

C. Systems

Communication Systems, Microwave Applications (ITS, SPS, etc.), Microwave Medical & Biological Applications/EMC/EMI, Phased Array Antenna Systems

D. Basic Theory and Techniques

Scattering and Propagation, Electromagnetic Field Theory and CAD, Antenna Theory, Microwave Antennas, Microwave Photonics, Microwave Superconductivity, Measurement Techniques

E. Emerging Technologies

RF MEMS, Active Antennas, Photonic Bandgap, Software Defined Radio, Wireless LAN and Bluetooth
SUBMISSION GUIDELINE
For details, please refer to the complete Call for Papers available in November, 2001 from the APMC 2002 Web site at http://www.apmc-mwe.org.
WORKSHOPS AND SHORT COURSES
The APMC 2002 will provide exciting workshops and short courses conducted by a group of specialists in a wide range of interesting and timely subjects.
MICROWAVE EXHIBITION
The Microwave Exihibition in association with the Conference will be held concurrently. Please contact the following address for further information:
Microwave Exhibition
c/o REALIZE INC., 4-1-4 Hongo, Bunkyo-ku, Tokyo 113-0033, Japan
Phone: +81-3-3815-8590, Fax: +81-3-3815-8529, E-mail: mweapmc@blue.ocn.ne.jp
APMC PRIZE
Papers presented at APMC 2002 will be judged by the APMC 2002 Prize Award Committee, and the authors of selected papers will be awarded the APMC 2002 Prize for outstanding contributions to the microwave field.
KYOTO
Kyoto is a world-wide popular tourist city situated about 500 kilometers west of Tokyo and 40 kilometers northeast of Osaka. It served as the capital of Japan from 794 to 1868 and was the birthplace of Japanese culture and traditions. Kyoto is the home of various national treasures worthy of global pride as well as many historical buildings and traditional arts and crafts. To the south of Kyoto lies historical Nara, the more ancient capital between 710 and 784.
TIME TABLE
Paper Submission Deadline: May 15, 2002
CONTACT
For further information, please contact:
Prof. Shozo Komaki
Chair, Steering Committee
c/o REALIZE INC., 4-1-4 Hongo, Bunkyo-ku, Tokyo 113-0033, Japan
Phone:+81-3-3815-8590, Fax: +81-3-3815-8529,
E-mail: mweapmc@blue.ocn.ne.jp
http://www.apmc-mwe.org
APMC 2002 COMMITTEE OFFICERS
CONFERENCE CHAIRPERSON:

Nobuaki Kumagai
Emeritus Professor of Osaka University

ORGANIZING COMMITTEE:

Norihiko Morinaga
Osaka University

INTERNATIONAL COMMITTEE:

Koji Mizuno
Tohoku University
E-mail: koji@riec.tohoku.ac.jp

STEERING COMMITTEE:

Shozo Komaki
Osaka University
E-mail: komaki@comm.eng.osaka-u.ac.jp

GENERAL AFFAIRS:

Takashi Ohira
ATR Adaptive Communications Research Laboratories
E-mail: ohira@acr.atr.co.jp

TECHNICAL PROGRAM COMMITTEE:

Kazuhiko Honjo
Univ. of Electro-communications
E-mail: honjo@ice.uec.ac.jp

FINANCE:

Yohei Ishikawa
Murata Manufacturing Company Ltd.
E-mail: ishikawa@murata.co.jp

LOCAL ARRANGEMENTS:

Akira Nagai
NTT West Corp.
E-mail: a.nagai@west.ntt.co.jp

REGISTRATION:

Akio Iida
Mitsubishi Electric Corp.
E-mail: a.iida@cew.melco.co.jp

CEREMONY:

Ikuo Awai
Yamaguchi University
E-mail: awai@po.cc.yamaguchi-u.ac.jp

PUBLICITY:

Shigeji Nogi
Okayama University
E-mail: nogi@elec.okayama-u.ac.jp

PUBLICATION:

Isao Ohta
Himeji Institute of Technology
E-mail: ohta@elnics.eng.himeji-tech.ac.jp

EXHIBITION:

Yoshio Nikawa
Kokushikan University
E-mail: nikawa@kokushikan.ac.jp

CONFERENCE SERVICES:

REALIZE INC.
E-mail: mweapmc@blue.ocn.ne.jp
http://www.apmc-mwe.org
---
Updated on June 22, 2001 by Jun-ichi Takada